On the morning of August 16, the Hanoi Center for Investment, Trade and Tourism Promotion (HPA) held a seminar on "Solutions to improve corporate governance in the textile and garment industry in the new context".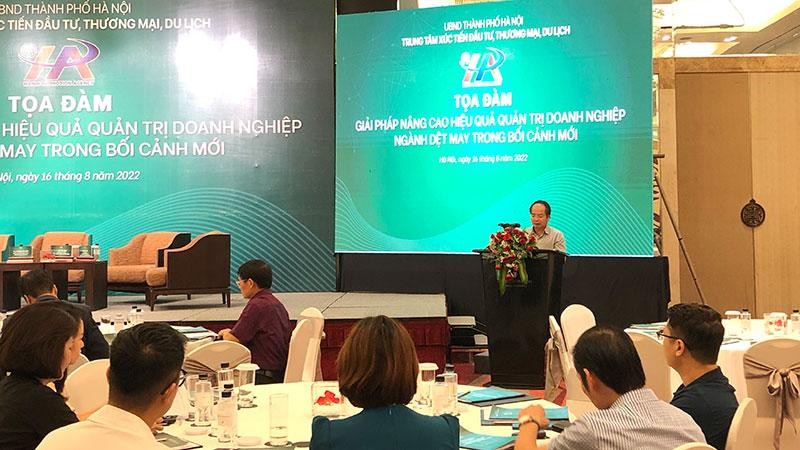 Delegates presented at the Seminar.
Speaking at the opening of the seminar, Deputy Director of the Center for Investment, Trade and Tourism Promotion of Hanoi, Le Tu Luc, said that Vietnam's textile and garment industry has always been one of the main export industries for many years. force of Vietnam.
2022 is the time when textile enterprises gradually recover from the heavy impact of the Covid-19 pandemic. In the first 6 months of 2022, textile and garment export turnover is estimated at 22.3 billion USD, up 17.7% over the same period in 2021. Trade surplus is 8.86 billion USD, up 32% compared to the first 6 months of 2021." This can be seen as a great effort of textile enterprises in the context of the world economy is still facing many difficulties", emphasized Mr. Le Tu Luc.
After the impact of the Covid-19 epidemic, textile and garment enterprises are focusing on investing in research and development of raw materials and auxiliary materials for production, improving their initiative to reduce dependence on raw materials. at the same time, seek to quickly adapt to new business conditions such as diversifying product lines and markets; application of a new payment mechanism that is different from the traditional way of buying and selling before.
Agreeing with this statement, Deputy Director of Foreign Investment Department (Ministry of Planning and Investment) Nguyen Anh Tuan affirmed: "The bigger the challenge, the higher the opportunity. Participating in free trade agreements is opening up great opportunities for Vietnam's textile and garment industry.
However, Mr. Nguyen Anh Tuan also pointed out that the textile and garment industry is lacking in linkages along the value chain. Vietnam has a trade surplus for yarn and garments, but a large deficit for fabrics. The yarn produced is not used domestically for weaving, but mainly for export. Fabrics produced domestically can only meet nearly 50% needs, causing Vietnam to import more than 10 billion USD of fabrics each year.
Meanwhile, new generation FTAs set requirements on rules of origin, yarns and fabrics must be produced in Vietnam, used in Vietnam or in FTA countries to be certified with rules of origin. and enjoy tax incentives. Therefore, textile enterprises are forced to focus on developing along the entire chain, forming a domestic value chain.
Sharing more about the challenges of the textile and garment industry, Vice President and General Secretary of the Vietnam Textile and Apparel Association (VITAS) Truong Van Cam emphasized: "Vietnam's textile and garment industry is facing fierce competition with countries with needles. Large textile and garment exports such as China, Bangladesh, Turkey, India... In the domestic market, there must also be fierce competition with major foreign brands already present in Vietnam.
Not only that, the markets of Vietnam's textile and garment importing countries are mostly high-class and fastidious markets, with high requirements on quality, product safety, environment, recycling content, standards. Labor... World trends are also changing, moving from fast fashion to sustainable fashion (increasing product life, recycling rate, carbon fee...)
In order for the textile and garment industry to overcome challenges and make good use of "golden" opportunities in development, the participants of the Seminar proposed solutions to attract investment in the textile and garment industry, especially in the textile and garment industry. textile-dyeing projects, production of new materials of natural origin, environmentally friendly...
At the same time, improve management capacity and develop human resources for textile and garment enterprises. Enterprises need to continue to promote the development of brands and new products, diversify the supply of raw materials and accessories and export markets, "green" the textile industry, etc. The goal of export turnover by 2030 is to reach $68 to $70 billion.
Source: Nhan Dan Newspaper