Call me biased, but I say with conviction that Vietnam is the most unique and authentic country in South-East Asia. It has 54 distinct ethnic groups, many with their own language, lifestyle and long traditions that have been passed down through the generations. Between the tribal traditions, natural beauty of the landscape, incredible food and hospitable hosts, Vietnam is a must visit country worthy of anyones travel list.
However. Vietnam is rapidly changing, and the changes affect all of it's diverse people.
Increased access to technology, media and mass produced goods are making the world a smaller, more generic place. In Vietnam, this is as evident amongst the younger generations of indigenous ethnic groups whom are now being exposed to a new way of life and opportunities previously unknown to their elders.
Naturally, these young people are affected by what they see happening across the country, and they strive to fit in to a culture that was never their own in order to earn their place in the new world encroaching on them. As a result, traditional visual identities through dress are rapidly beginning to evolve, or worse, becoming extinct.
This makes Vietnam one of the best destinations for anyone passionate about textiles and ethnology, as it might not be too long before these unique people start to dress like everyone else.
---
14. Eco fashion pioneers
For a women of the Vietnamese hill tribes, a new outfit takes a LOT of work. The vast majority of women make just one ensemble per year. No wonder, as many they grow their own hemp or cotton for weaving and produce their own natural dyes before they can even begin sewing. Truly inspirational for today's 'slow fashion' innovators.
Rubbing the Annato seeds together releases the natural pigment used for dyeing silk threads.
---
13. Killer sense of style
These women are bold and brave when it comes to expressing their style, knowing exactly how to mix and match colours, textures and garments just as well as any hipster posing on the streets of London or New York. Many swell with proud excitement when I ask to photograph their outfits, giving them a chance to show off their much loved, hard laboured and uniquely personal style.
Hmong girl at Sin Ho market by John Molds at Faceofvietnam.com
---
12. They care about what they wear
Donning one's finest outfit is seen as a weekly (if not daily) celebration of cultural identity and pride. Clothes are worn for different occasions with the best being kept in immaculate condition. Although each item of clothing carries generations' worth of tradition, they are still deeply personal to the wearer, a true expression of individuality and style. I love hearing the stories behind the garments, as they hold both the richness of everyday life, and lifelong skills and personal characteristics of their makers.
---
11. Handmade heroines
When you live on a mountain in the middle of nowhere, handmade isn't a trendy hobby but an essential way of life. What's incredible is that most rural women have taught themselves the vast variety of hand made textile techniques they use daily. And they don't just make their own clothes; they make their whole family's traditional dress. Some hill tribes have now started to integrate modern fabrics and basic foot pedal sewing machines but nearly everything is still made at home.
Mien lady sewing embroidery by the roadside in Tin Tuc, North Vietnam.
---
10. Accomplished Colourists
You will have to travel far and wide to see a more diverse and daring bunch of women. The Vietnamese ethnic groups readily use combinations of contrasting and clashing colours in order to attract attention, and easily identify one clan from another.
---
9. Age less style
Heading up to the hill tribes homes sometimes feels a bit like being on a film set. It's completely otherworldly, and there's often very little reference to contemporary style or fashion. Each generation has their own look, but they are all tied together through the age less tradition of style passed down from mother to daughter, and elderly women can often still be seen wearing the same style garments today as they did when they were young girls.
Colourful Hmong elder at Sin Ho market
---
8. Beading
Heavily beaded accessories are pretty essential in Vietnamese hill tribe garb. Beads are used to adorn headpieces, aprons, belts and leg wraps. They are laid on top of one another to make stripes, zig zags and other geometric motifs.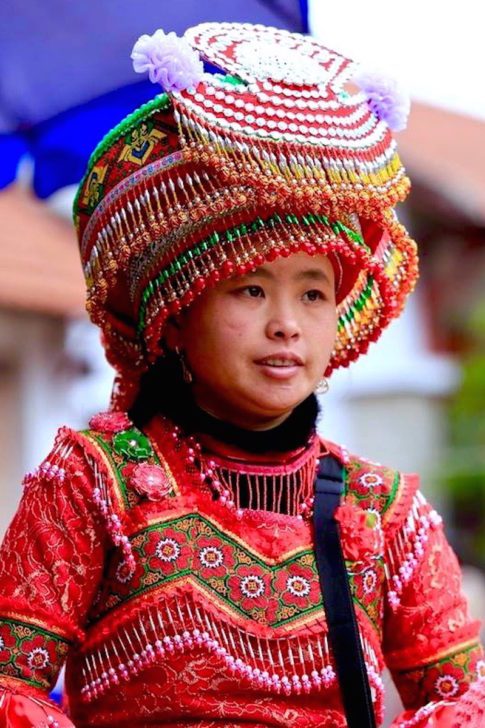 You'll also find them strung into the shapes of flowers and love hearts – which I adore!
---
7. Embroidery
Embroidery and cross-stitch is probably the most popular technique due to its inexpensive yet intricate detail. Women from the Dao hill tribes are highly revered for their embroidery, which is sewn from the reverse side of the fabric and takes years of practice. Their designs depict everyday life alongside animist mysticism; beautiful to behold.
---
6. Weaving
Looms can been found in many households across rural Vietnam.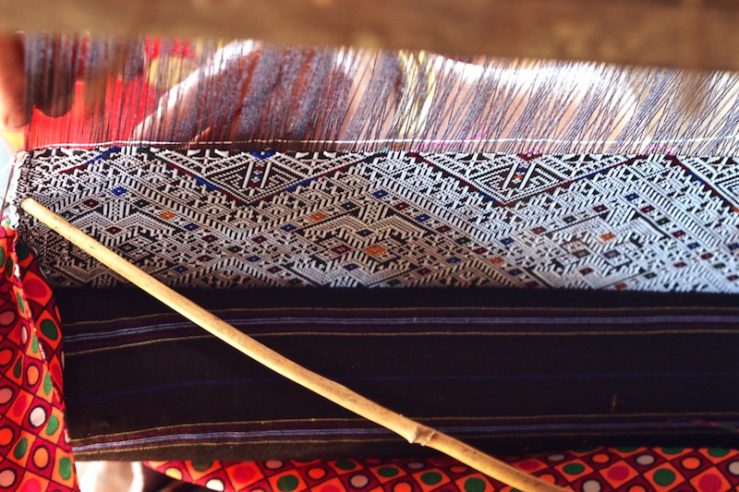 The Pathen, Thai, Lao and Lu are the most skillful, weaving everything from simple cloth, to pretty ribbons and complex cultural designs which are amazingly recreated and adapted from memory.
---
5. Batik
Batk is a wax resist dyeing technique largely used by the Hmong people. Highly intricate designs are marked on the fabrics first using the sharp edge of their finger nails, followed by the application of molten bee's wax using a Tjanting tool. Once cooled, the fabric is dyed and dried before the wax is removed with boiling water to reveal the pattern on the cloth underneath.
---
4. Embellishments
Bring on the bling.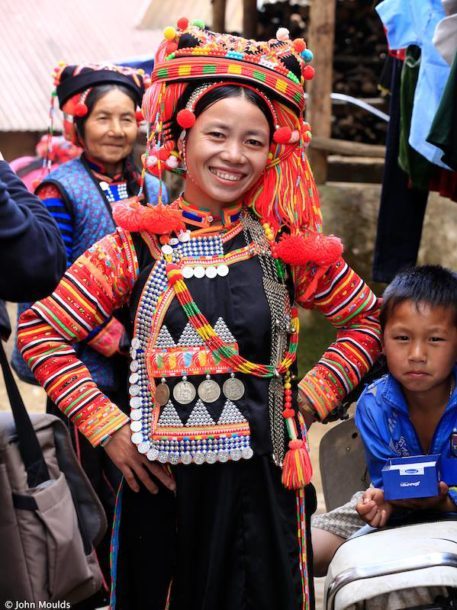 Studs, sequins, coins, chains and bells are added in ample quantities to add shimmer and shine to their sartorial accomplishments.
---
3. Fluffy things
Poms poms and tassels are extremely popular additions for the traditional dress of the Ha Nhi, Lu and certain sub groups of the Hmong and Dao.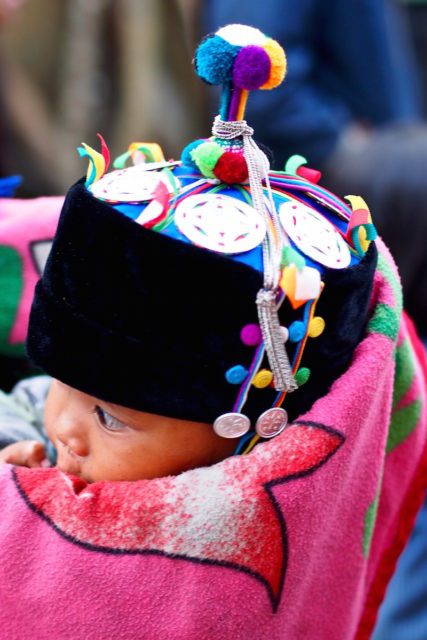 Possibly the most fun accompaniment to any outfit, and something I have adopted into my own style on than one occasion.
---
2. Organic Dyeing
Natural dying has been all the rage amongst Vietnamese hill tribes for generations, using leaves, roots, fruits and berries to dye their clothes all manner of colours.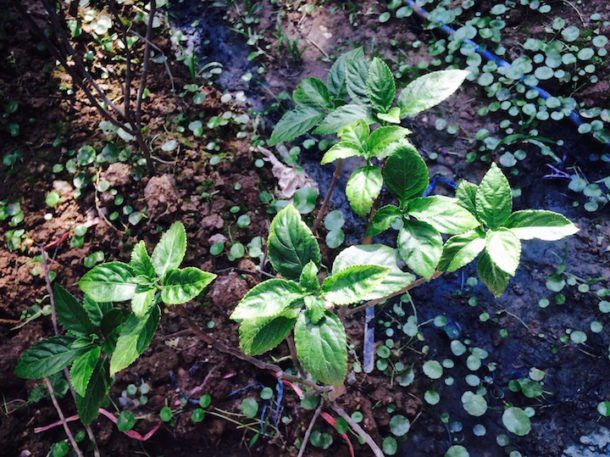 Truly organic.
---
1. Applique
Applique as seen in Vietnam is possibly the most labor intensive and time-consuming textile technique out there. But this is no good reason at all for it not being the principle design feature of the Flower Lolo, Lolo Den and Lolo Red Hill tribes.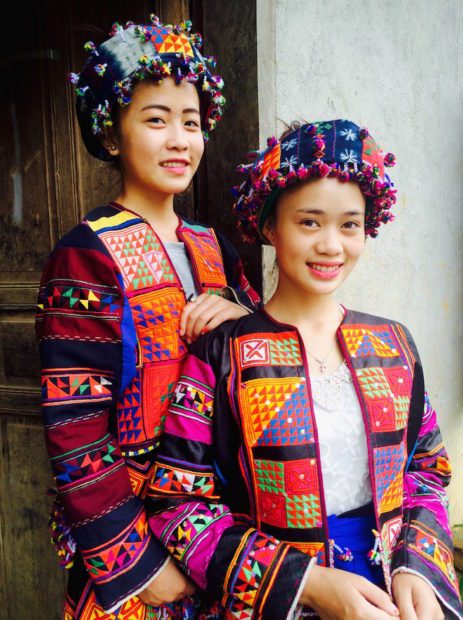 Hmong groups towards the Lao border are also very fond of this technique. When you behold the garments, the effort is unquestionably worth it.
(By Hauteculturefashion)
---
Do you love ethnic and tribal textiles and costume? Did you meet any of the tribes on your visit to Vietnam? Please share your experiences, ideas and suggestions in the comments box below.